How to connect to HubSpot CMS via FTP
HubSpot supports uploading and downloading template files, stylesheets, Javascript files, and File Manager assets via FTP. This capability replaces the deprecated Uploader tool. Custom modules can be created and edited via FTP with the new Design Manager.
FTP is not available for users with two-factor authentication (2FA) or single sign-on (SSO) enabled. The [beta] CLI does work with 2FA, we advise using OAuth2 for better security.
General instructions
The HubSpot FTP service runs on port 3200 at the hostname ftp.hubapi.com. The initial connection is in cleartext, but before the login password is sent, the connection MUST be upgraded to TLS. Clients should be configured for FTP-SSL with explicit auth. The login and password is the same as your app.hubspot.com login. Passive mode must be enabled.
Alternatively, you can connect with Implicit SSL on port 3201. In addition to the control port, the HubSpot FTP service uses a range of data ports. Each transfer gets randomly assigned a data port for the upload or download. In case you need to open up data ports for company firewalls, HubSpot's data ports are in the range 3203-3299.
There are two methods for providing secure FTP services - FTPS (FTP with SSL) and SFTP. HubSpot supports FTPS only.
Edit connection settings
Ensure that the connection is set to use TLS/SSL.
Enter server
In the Host or Server field, enter ftp.hubapi.com.
Enter port
Enter 3200 for the port. If you prefer Implicit SSL, the port should be set to 3201.
Enter credentials
Enter your HubSpot username and password. You must be a HubSpot user in an account to connect via FTP.
Connect
Connect to the server. Once successfully connected, you should see a folder called "portals."
Directory structure
In the "portals" folder contains a HubID directory for each portal that your user is authorized in. Each of these HubID directories contains three subfolders:
files - assets uploaded to File Manager.
designs - templates, CSS, and Javascript coded files found in Design Manager.

The assets in the "designs" folder will match the folder structure in your Design Manager in the finder. Changes made to the folder structure or individual assets in FTP will be reflected in your Design Manager.

To create a new coded module, make a new directory with the .module extension. This will automatically create a new custom module. New modules created via FTP will be compatible with page and blog templates by default.
At this time the designs folder does not support drag and drop templates.
Other FTP client examples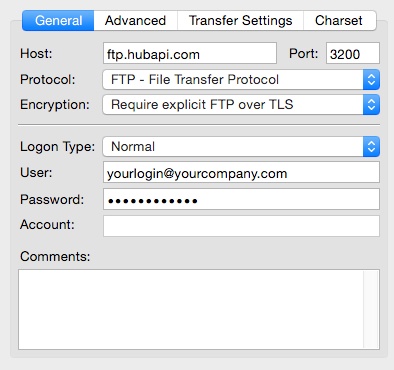 From the Preferences menu, select Security and change FTP uses SSL (AUTH) from "Never" to "If Available".
Connect with cURL
You can also connect with cURL using this command:

curl -v ftp://ftp.hubapi.com:3200/ --ftp-ssl --user yourlogin@yourcompany.com 

Local HubL Server + FTP
You can use the Local HubL Server with an FTP client to sync both the local and remote 'custom' directories. This workflow allows you to develop templates and CSS files locally, while still uploading them to your HubSpot account. To learn more, check out this article.
Troubleshooting tips
If you are unable to connect via FTP, check the log messages for the client. If your settings match those described above and the connection is consistently timing out, the connection is mostly being blocked by your network firewall. Make sure your firewall is not blocking the ports used by HubSpot's FTP.
Subscribe to designer doc updates