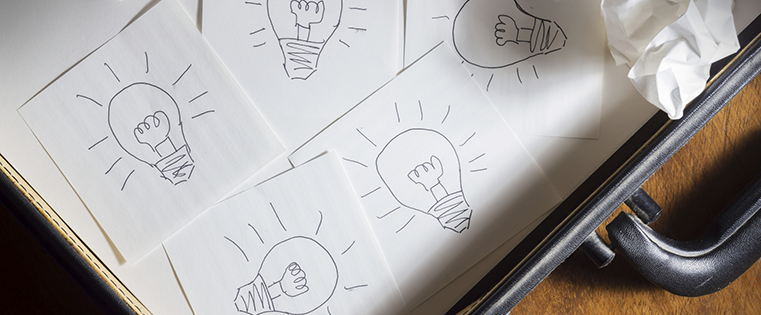 Your portfolio is a public presentation of who you are as a designer or copywriter. It's should reflect your style, tastes, skills, and point of view.
That amounts to a ton of pressure, especially when you are looking for a new position.
You need a plan of action for outlining and creating the perfect portfolio -- one that gets the attention of hiring managers and positions you to do the type of work you want to do.
Here are seven important things to remember when crafting your online or print creative portfolio:
1) Choose your best work.
Young creatives often want to make up for their lack of experience by showing off every project they have ever worked on.
Instead, you should curate your best work. One lousy piece could make the hiring manger doubt whether or not you have the chops for the position. In addition, if your competitors for the job show off nearly flawless portfolios, yours could be discounted for its weaker pieces.
When deciding whether or not to include a project, ask yourself:
Is it original?
Will it make the viewer envious that he didn't think of it?
Will the person want to share it with his team members?
Does if show off your unique approach to creative work?
2) Tell a story.
Knowing the story behind the final piece will make the final work more impressive and memorable.
An experiment from Significant Objects emphasizes this point. The team paired a low-cost, thrift store item with a writer who created a fictional story about the object and then auctioned the item on eBay. They spent $128.74 on junk, which ended up selling for a grand total of $3,612.51. The story behind why and how you did something makes it more valuable.
Include these key pieces of information for each project:
Description of the final piece
Constraints on the project
The timeline
The business objectives of the project
What you would have done differently
The success metrics tracked
Who you worked with on the project
3) Highlight side projects.
Being a creative person -- a designer, a writer, a director -- doesn't end the moment you step outside the office.
Employers want to see that this is a passion of yours, a way of life.
Show off your side projects and discuss why this is something you enjoy. It will reveal more about your personality and approach to life than any corporate project, and likeability is a key element in getting a job.
4) Pay attention to the details.
Misspellings, grammar mistakes, broken links, pixelated images, and the like might not seem like a big deal, but remember that this employer is both looking for why he should hire you and why he shouldn't. These mistakes make it easy for someone to cut you from the shortlist when there are hundreds of other applicants.
5) Be consistent.
Especially when you present your portfolio online, consistency is key. A hiring manager should know what he will see before he clicks on the link. The structure of the project page and the way screenshots, videos, and links are presented should feel familiar and cohesive.
6) Don't skimp on photos.
High-quality photography can make a big difference when showcasing printed materials or a physical product. Take close-up shots of paper, binding, materials, and document the progress of the project. For online designs, include photos of whiteboarding sessions and wireframes. Use screenshots that are optimized properly, and format your portfolio so that the images are the focus.
7) Don't tell your life story.
The "about" section of your portfolio should combine elements from your résumé, the story of how you became a creative professional, personal details such as hobbies and interests, and your creative approach or point of view. However, don't write a novel. Flesh out a few succinct paragraphs, and include a link to your résumé. Hiring managers will be more interested in how you tell your story and how you define your journey.