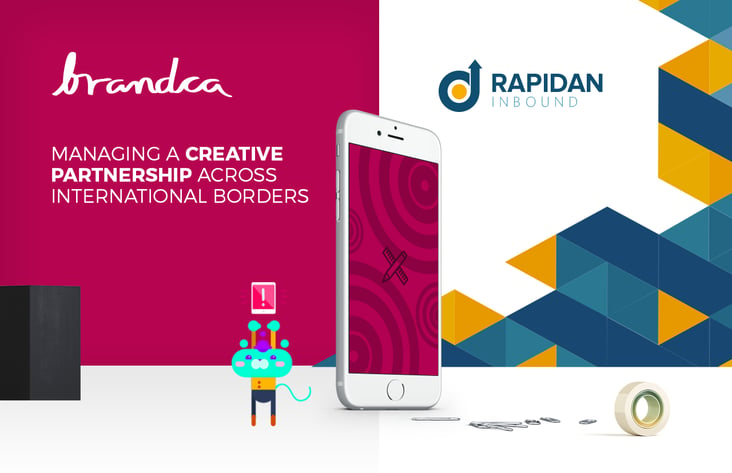 One of the keys to great design is clear communications between the designer and the client. I've spent a good deal of time and effort in my role as Chief Branding Officer of Rapidan Inbound on establishing great client communications.
It's a little bit different for me than most of you. You see, I have a day job. I'm the CEO of Brandca, a branding and design agency located in Bogotá, Colombia. I spend a good part of my day speaking Spanish to my team and local clients. Although I do speak English, it's not my native tongue, and yet, I step out of my comfort zone everyday in talks with John Beveridge, the CEO of Rapidan Inbound. John and I have a great partnership and we're proud of the work we've done for our clients. But we both have worked hard to build that partnership. Here are some tips for developing good partnerships between creative teams, clients, and agency managers across international borders.
Tips For Managing A Creative Partnership
Put Effort Into The Partnership
John Beveridge: "I met Laura at a business matchmaking forum in Bogotá sponsored by ProColombia, the Colombian Government Trade Authority. We were both in the process of establishing our businesses. As a HubSpot partner, I was looking for a design partner to help me provide a full range of services to my customers. Laura and I decided to see if we could work together."
We both knew that a potential partnership was a long-term proposition and that we would need to put effort into making the partnership work. We both had respect for each other's cultures and were genuinely interested in learning more about them.
One thing that we both had in common was that we were dedicated to doing excellent work for clients. Here are some of the things we learned that improved our communications:
Spend time with your clients completing the creative brief. Keep asking them questions about it until you completely understand what they're looking for.

Keep in mind that no matter how well your partner speaks English, they may not know the colloquialisms. For example, they may not know that "you hit that one out of the park" is a compliment! John helps me by asking me if I know the slang phrases he uses (and he uses a lot of them!)

If you're communicating via Skype, turn your cameras on! So much of communication is non-verbal and it's much easier to communicate effectively if you can see your partner's face.

Creative people need to talk frequently with their client management partners. You need to make sure you're in agreement about the scope and direction of the project.
John Beveridge: "It's funny – Laura and I have worked so hard on communicating that we understand each other better than some of our colleagues who speak the same native language. We've perfected the language of Spanglish!"
Trust Your Partner
Trust is essential in any partnership and creative ones are no different. Both sides of the partnership need to earn trust and respect one another's talents.
Part of our commitment to build trust was getting our HubSpot Design Certification. We took some of our team members out of production to get certified, knowing that we would get HubSpot design work down the road.
John Beveridge: "Part of the Colombian culture is that they are incredibly respectful and sensitive to other people's feelings. It was very difficult for Laura to tell me to mind my own business when I got too involved in the design process. Things got done much easier and better when I trusted Laura to do what she does best – design websites!"
On the other side, I know John will look out for my interests when managing relationships with Rapidan Inbound clients. We both know each other's strengths and lean on each other when we need help – and we know we will get it.
Use Technology to Manage Your Creative Partnership
Cloud-based technology has made it much easier to have partnerships across international borders. Here are some of the technologies that we use:
I'm very pleased with our partnership with Rapidan Inbound. By building our partnership, we've opened up the United States market for our company as well as the market for HubSpot users. If there is one piece of advice I could share with both sides of creative partnerships, it would be to put the necessary effort into building a successful partnership. It will pay off for you in the long run.