In honor of the upcoming holiday weekend here in the states, we thought we'd send you off with one of our favorite fun posts from HubSpot's Marketing Blog.
I just picked up a new hobby.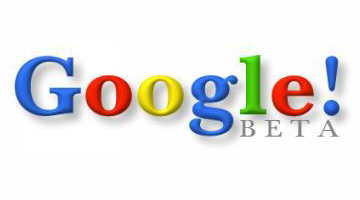 I call it "Waybacking."
It's kinda like Googling, but even better. Using the Wayback Machine, I can see what my favorite websites looked like two years ago, four years ago, or even 16 years ago. (My, they have come a long way!)
It's nice to see the humble beginnings of very successful websites today -- especially when you're in the middle of planning a website redesign and need a little confidence. Every company starts somewhere, and you don't always need to nail your logo, colors, or tagline on the first try.
So without further ado, I'd like to present you with 20 of my favorite websites, but way back in their early days:
1) Google

Remember when Google was in Beta? Just picture Larry Page back in 1998 saying, "Our goal is to organize the world's information and to make it universally accessible and useful." Do you think they've reached their goal in 2014? I do.

Tweet about Google.

2) Apple

Remember the iBook? Colorful, customizable -- I'm talking back when Elle Woods was rocking a cotton candy pink one in Legally Blonde. As Steve Jobs once said, "We made the buttons on the screen look so good you'll want to lick them." Which version of Apple.com would you rather lick? If Steve had it right, you'll want to lick both.

Tweet about Apple.

3) Microsoft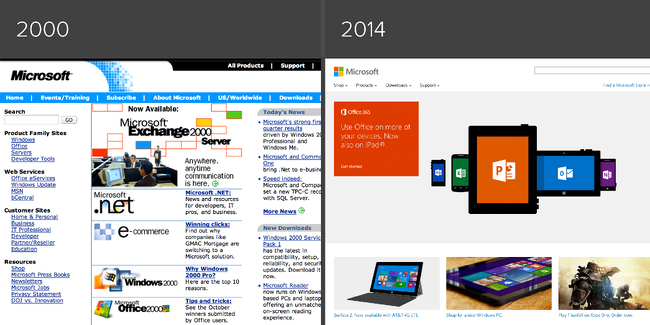 In 2000, Microsoft's website looked an awful lot like the Windows 2000 you know from your friendly desktop computer. You'll see the same fonts, same colors, and same iconic imagery. Today, Microsoft's website looks more like Windows 8.1 with a heavy focus on the tablet. Forget "the year of mobile," we're now in the era of mobile ... and that's not changing anytime soon.

Tweet about Microsoft.
4) Mashable

This is not a joke. Yes, Mashable was once covered in a gradient background and had one author: Pete Cashmore. Now, the site is highly visual and has multiple authors pumping out content daily. It's also interesting to see how the general theme of "Web 2.0" evolved into social media, tech, business, entertainment, and even politics.

Tweet about Mashable.

5) HubSpot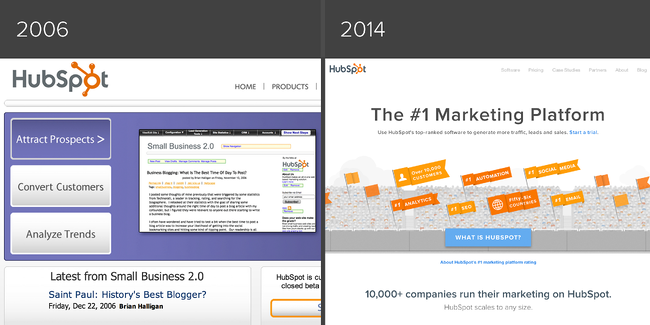 In 2006, the tech and marketing world was focused heavily on surviving and succeeding in a web 2.0 world. (In fact, here's HubSpot's very first blog post, which elaborates on that exact topic.) Small businesses were popping up all over the world, focusing more on brain size, not wallet size. Today, HubSpot still caters to small businesses, but also medium and enterprise businesses, as well.

Tweet about HubSpot.
6) BuzzFeed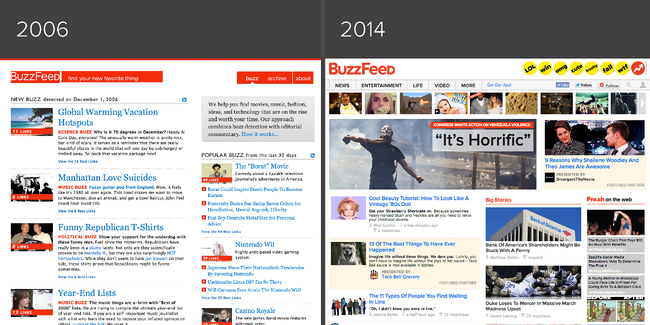 Literally starting out as your 'feed' for popular 'buzz,' BuzzFeed was created to help users find their favorite things including movies, music, fashion, ideas, and technology. The site still achieves this today, but with a more visual and interactive approach. This seems to be the trend for websites in 2014. Would you agree?

Tweet about BuzzFeed.
7) The White House

In 2000, Bill Clinton was the President of the United States, Al Gore was Vice President, and whitehouse.gov had a very different look and feel. I personally love the sandy, textured background with the scripty font on top. Were they going for that nostalgic "Declaration of Independence" look? Oh, and we can't forget about those patriotic flags on either side of the White House. These were actually animated (like a MySpace profile GIF) so the flags would wave. Today, the White House brand remains classy, but modern, with a focus on educating U.S. citizens on pressing issues.

Tweet about the White House.
8) TED

I'm really impressed with 2003's TED.com. Why? Because they really nailed visual content way ahead of their time. The website in 2014 looks more modern, but still focuses heavily on images.

Tweet about TED.
9) Skype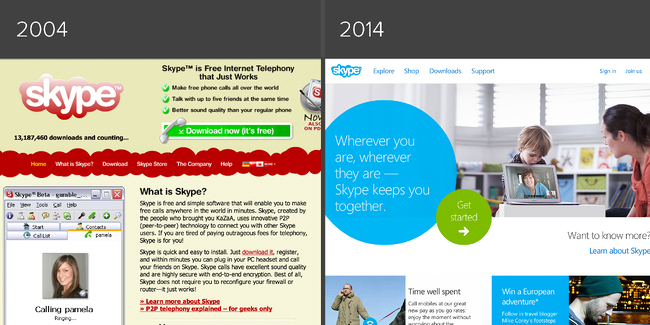 Okay, I understand the gradient thing was popular in the early 2000's ... but Skype's logo was once red?! Who knew? Another fun fact: Skype was created by the people who brought you music downloading service, KaZaA. I didn't know that, either, until I read it on their website from 2004. I guess you learn something new every day.

Tweet about Skype.
10) AOL
Oh, AOL, you nostalgic beauty. I miss hearing your "You've got mail!" greeting (but only after I've listened to that dial up internet sound for 20 minutes). In 2014, AOL is taking the news aggregator approach to accompany your morning coffee and daily email routine.

Tweet about AOL.

11) Ask Jeeves
Ask Jeeves -- another oldie, but goodie. Did you ever ask your questions on askjeeves.com instead of google.com back in 2000? I know I did. I just couldn't resist the cartoon butler! Still taking the Q&A approach in 2014, Ask Jeeves is now called Ask. Why did they change the name? I don't know. Why don't you go to ask.com to find out?

Tweet about Ask Jeeves.
12) Blockbuster
Sticking with the theme of "oldie, but goodie," I give you Blockbuster. Remember back in 1996 when Blockbuster was a thriving business? You could rent movies, music, books, and even video games for your Sega Genesis system. Today, Blockbuster takes the simplified approach, offering videos on demand to compete with companies like Netflix and Hulu.

Tweet about Blockbuster.
13) Coca-Cola
Talk about timeless branding! Coca-Cola's website from 2000 doesn't look too shabby compared to many of the outdated websites listed here. Coke really understood the importance of visual content and simplicity in 2000, and they still do today.

Tweet about Coca-Cola.
14) Pepsi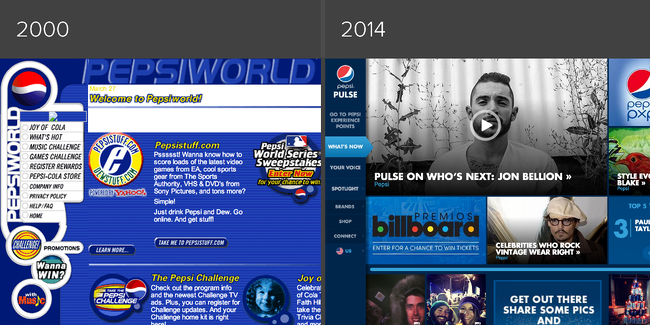 It's not easy to achieve a timeless look like Coca-Cola has. Since 2000, Pepsi has changed a lot, including its logo, fonts, and colors. Although Pepsi has always recognized and emphasized music as a strong persona interest, the 2014 approach is much more modern and visually appealing.

Tweet about Pepsi.
15) Macy's
Nice graphics, Macy's. Are those clip art images from Microsoft Word's 1999 collection? They're super snazzy and go along so niceley with your green logo and color scheme. I find this very interesting because according to Wikipedia, Macy's present day logo was designed in 1988, long before the website was created.

Tweet about Macy's.
16) Amazon
Before looking up Amazon's website in 1999, I assumed the colors, logo, and layout of the website remained unchanged. It looks like I was wrong. In 2000, Amazon's logo changed to feature an arrow from A to Z, which is the logo you know and love today. Additionally, Amazon's site features a lot more Amazon-specific products in addition to products from third-party sellers.

Tweet about Amazon.
17) Yahoo!
Yahoo! has had many ups and downs since 1999, including a drastic redesign ... multiple times over. The 2014 website looks like a completely different brand, but still aims to be your go-to place for checking email and reading news with your morning cup o' Joe.

Tweet about Yahoo!
18) Tumblr
Speaking of Yahoo!, let's see how Tumblr has changed from the early days to 2014, after Yahoo! acquired it. I have to admit, I think "tumblelog" is the most adorable name for a blog post. This word was used to help differentiate Tumblr from other blogging platforms. Tumblr has always been much more visual, and more social, with shorter-form content.

Tweet about Tumblr.
19) Pinterest
Remember when Pinterest was invite-only? Although Pinterest hasn't changed all that much since 2010, the logo sure looks different. You'll notice the images are also much bigger now that the white border has been eliminated. Do you still use Pinterest the same way you did in 2010?

Tweet about Pinterest.
20) Reddit
The final website I want to showcase on our tour down memory lane is Reddit. Is it just me, or is Reddit pretty much the same as it was nine years ago? Yes, the site is slightly more visual and it now features ads, but the structure is the same. Redditors seem to love the simplicity of the site, so I guess if it ain't broke, don't fix it.

Tweet about Reddit.
Which of these websites shocked you the most? Are there other websites you wish we included here? Share your thoughts in the comments below!