There are few things more rewarding than when something makes your day to day job easier. Whether your co-worker gives you the heads up the boss isn't in the best mood or your favorite calendar app reminds you of a project deadline, it's often the thought alone that counts. Yet when taken a step further, certain actions have the ability to alter your workflow and make your day more productive. That's why we're dedicated to simplifying processes to enable you to work faster with better results. These product updates allow you to skip the hassle and focus on what counts.


In-App Template Copy Tool
Are you a HubSpot customer with access to multiple portals? Then have we go news for you! We know that if you're creating and managing sites for clients or your own personal use, your likely reusing and customizing templates frequently. Now, we're making this process easier with the in-app template copy tool. Using the in-app template copy tool enables you to easily copy templates from one portal to another and start customizing them for a new website by transferring all the necessary files. Using the in-app copy tool will also transfer all technical dependencies, which includes any attached CSS files, global groups, custom modules, and more. Image files within templates will not transfer as part of the templates but will be linked from the source portal. This update can help you to capitalize on the five free templates within the HubSpot COS.
How does it work?
Go to Content > Design Manager.

Select the template you want to want to transfer and click on the Copy to portals button.

Choose a destination portal and click Next Step.

Verify the destination and theme, and click Next Step.

Choose whether you would like to be notified (recommended), and click Copy Template.

Please note: The template copy can take up to 30 minutes to appear in the destination portal. If you need additional assitance, check out the HubSpot Academy article "Can I copy templates from one portal to another?" or reply below in the comments.
Simplified Content URLs
Providing a faster customer experience is always top of mind here at HubSpot. Previously, the process to upload an image to your website required a complicated process of load balancers and servers, resulting in a long URL. This resulted in a slightly slower experience loading large files, and URLs that were difficult to understand and copy. Now, we've simplified the backend loading of images and removed unnecessary steps which has improved load time and created a URL that is easy to understand and copy.
How does it work?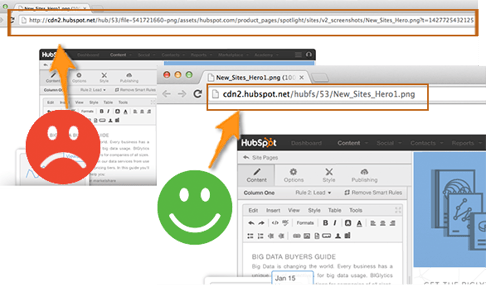 Website visitors will now only pass-through the Akamai CDN, and a proxy before loading an asset, such as an image, resulting in a faster experience.
How do you feel about these HubSpot updates? Let us know in the comments below!